Kid's Magicians for Birthday Parties
Enjoy a party with Ireland's favorite female kid's magicians. Laugh and smile as Waffles performs an interactive birthday magic show. Waffles tricks are goofy and fun and she is sure to bring a smile to all. Giggle at Waffles mind reading bear Boo Boo. Smile as Waffles brings an adult up for a rope trick. Hoot and howl as kids make scarves appear and disappear. Waffles comes with a PA and gets all the kids up for dance games too. Waffles will make your birthday boy or girl the star of the show. Waffles was selected by President Higgins to perform at the Aras and has been making children happy for over 10 years.
Wonderful children's entertainment for birthday parties, communion parties, christening, and festivals.
Kid's Magicians Party Packages Includes:
Enjoy birthday party magic and contests with loads of audience participation. Watch and laugh as a child makes an 8 foot straw appear, smile when eggs appear and disappear, and giggle as Jack performs mind reading. The show uses several volunteers but makes sure the birthday boy or girl does the most tricks. After the show every child gets to do a trick and every child gets a modeled balloon. A great show for children of all ages. Jack has over 20 years of experience as a kid's magician and has toured to over 11 million people. Jack has performed at the White House, Leinster House, on RTE, and for his daughter's Senior Infant Class.
Kid's Magicians Party Packages Includes:
Let your imagination run wild as The Amazing Avocado weaves together magic and mayhem in a silly show for younger children. The Amazing Avocado will make his invisible rabbit Hoppy appear, have his magic wands run amok, and have the birthday boy or girl perform tricks that they will cherish forever. This show captures the energy and imagination of young children and unleashes it in a non-stop thrill ride of tricks and fun with one of Ireland's best kid's magicians.
Kid's Magicians Party Packages Includes: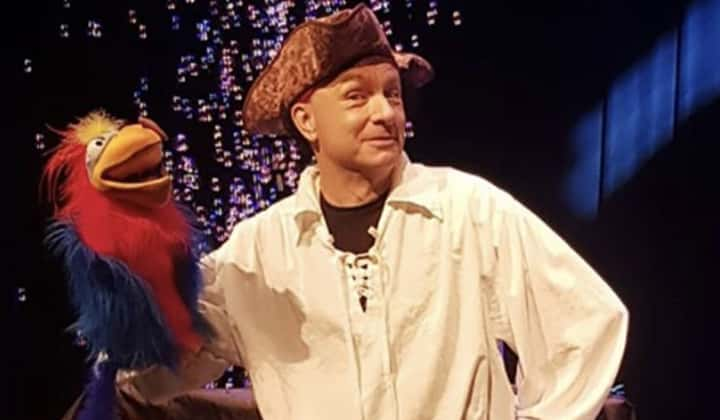 Arrrrr you ready for a pirate magic show? Batten down the hatches for birthday party entertainment. Captain Ridiculous and his pet parrot Squawk perform magic tricks, make balloon swords for all, and have all the children join the crew. This is a birthday adventure that the children will treasure. 
Kid's Magicians Party Packages Includes:
Join Princess Zee Zee for a fun filled birthday party. This party is for younger children who want to see some magic, play games, and be treated like a Princess. This party features a bit of magic along with face painting, balloon modeling and dance games. The birthday girl is the star of the show and gets to perform magic tricks and become a real life birthday princess. 
Kid's Magicians Party Packages Includes:
Arrrrrrh you ready to set sail on a voyage of fun and imagination? Captain Ho Ho will amaze the kids and grown ups alike with magic and mirth.
See Captain Ho Ho make water disappear over a child's head, conjure a pirate flag from thin air, and take a playing card out of a sealed orange. During this magic show Captain Ho Ho tells tales of his adventures on the high seas that will have everyone laughing.  Captain Ho Ho has over 15 years experience as one of Ireland's best kid's magicians. A show you will treasure!
Kid's Magicians Party Packages Includes:
If you are having a two hour party, the entertainer will arrive 15 minutes after the party starts. That way all of the kids will be there, the presents will be put away and they can start straight away. They will then perform their party package, which will take you to an hour and 30 minutes into the party. Then cake and food is served which takes about 10-15 minutes. That leaves 15 minutes of a runaround for the kids at the end. You can settle up with the entertainer on the day.  
All that's needed is a room for all the children to sit in. There is no limit on the numbers as long as they can all fit in the room. Please no serving food during the show. Please no noise makers.